News Update August 2020
2020 a year like no other with Covid 19 spreading across the world. My thoughts go out to everyone affected. My role as a part time Public Servant working in a local Police Station is considered essential so I have continued to work and feel very lucky to have a job. Isolating and social distancing have also not been too difficult as I am spending more time in the studio making. Having a creative outlet helps me keep mentally healthy and I recommend it to everyone.
I also hope that through these hard times there is the opportunity for new ideas and positive change in our world.
In last years update I mentioned my local design group Design Made Inc and our Exhibition Design by Making celebrating the 100th anniversary of the Bauhaus. The show was held across 2 venues, Home Hill Winery and the Kingston Arts Hub with all the works featured having a size requirement to be no bigger than 20 x 20 x 20 cms. Here are images of my piece Dilly Bag Gathering.
We were to have our next group exhibition at the Moonah Art Centre right about now but of course Covid 19 has affected this and we are rescheduling for 2021. BUT GOOD NEWS! We are still undertaking our annual Design Market at the Town Hall Hobart. This years dates are the 4th, 5th and 6th December and we will implement a Covid plan to ensure everyone's enjoyment and safety.
I am busy in the studio printing and sewing and this year my stall will feature Norens, traditional Japanese door curtains plus lots of bags/pouches. You can see what I am up to by following me on Instagram.
Finally for this update I am starting to hold some more workshops in my backyard studio in Moonah.
It is such a welcoming space – inspiring for both students and myself.
In introductory workshops you can learn my method of repeat placement stencil printing, print your own sample pieces and go home with your own creations plus all the knowledge you need for setting up your own workspace.
I advertise upcoming workshops on Instagram, or if interested you can contact me at pennyjmalone@gmail.com
Stay safe everyone and wash your hands !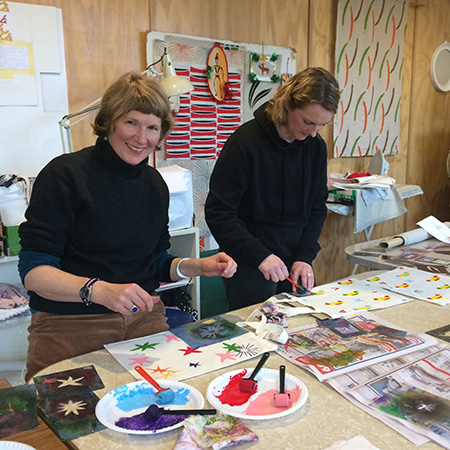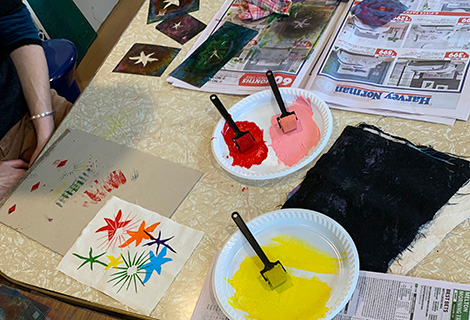 News Update August 2021
Our annual design market for 2020 was held at the Town Hall Hobart in December and well supported. We have built a strong reputation and this year's 2021market is set for the 3rd to 5th December.
Last year following the market we moved into empty premises in the CBD and held a pop-up shop that ran through December and into early January. It was very successful and we got great feedback from the public. Keep an eye on our group website www.designedmade.com.au for news of another one this year.
The Design Made Inc Exhibition for 2020 was like many other events cancelled due to COVID but has just been held this year. The Show was titled INTERPLAY and opened at the Moonah Art Centre early August and ran for a month. My work looked at the interplay between form and function, I created a series of large drawstring sacks that could be viewed as sculptural pieces, soft furnishings or storage vessels. The exhibition was well received with lots of positive feedback.
I have been continuing to present introductory fabric printing workshops in my studio and getting plenty of interest. Check out my Instagram account or contact me for upcoming workshop dates.
Finally I try and feature something different each year for the Town Hall Market. Last year it was Norens (traditional Japanese door curtains), this year I am onto Aprons. I've found a pattern for a full apron where you slip head and arms through the straps negating the need for having to tie around the neck and waist (which I always find uncomfortable and annoying). I will also have tea towels, sun hats, bucket hats and more storage sacks. I'd better get printing and sewing!
Hope to see you at the annual Town Hall Market in December.
Stay safe in these Covid times.
Content for New div Tag Goes Here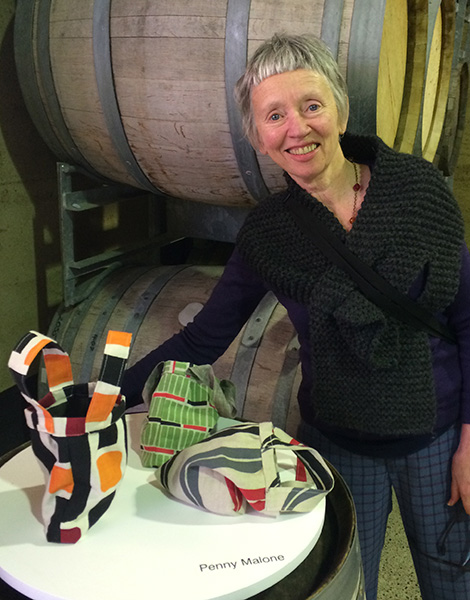 Website Design by Penny M!alone and Inkpot Studios